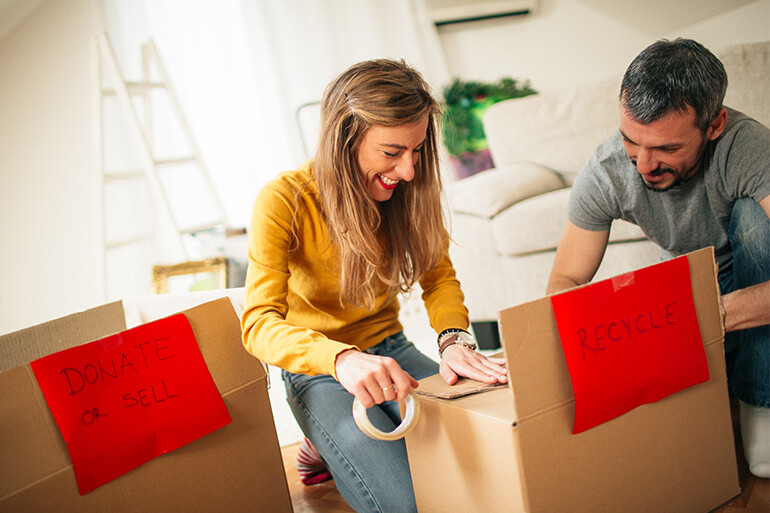 Aug 2020
6 top tips for decluttering before your move
---
Clearing the clutter in your current home can pay off when it's time to move to a new home. By following these six essential tips, you can save (and even make) money as you prepare for moving day, set yourself up for a smooth move, and prepare for more streamlined living in your new home.
---
Tip #1: Plan ahead for success
The key to successful decluttering is to plan ahead.
If possible, give yourself ample time. Aim to complete your decluttering over a few months, especially if you have years of accumulated belongings or are downsizing from a large family home to a smaller home.
Start with a timeline, a strategy and a list of priorities
Start by mapping out a timeline with decluttering milestones you want to achieve ahead of moving day.
When creating your plan, consider how much time each week you can allocate to decluttering and which approach would suit you when sorting through things – for instance, working through your current home room by room, or maybe sorting through one item type at a time, like clothing or books. You may even like to list these rooms or item types by priority so you can tick the largest jobs or essentials off first.
Keep your goals in sight
Writing down your plan or marking it in a calendar and keeping it in a place like the kitchen, where you can see it every day, is a useful way to monitor your progress as moving day gets closer.
Remember, while it's ideal to follow your timeline as closely as possible, it's just as important to have some flexibility with your plans, so if unexpected events arise, you can adjust your decluttering schedule as needed and still ensure you've reached some significant decluttering goals before your move.
Tip #2: Ease in with a light touch if you're easily overwhelmed
Jumping into discarding items immediately can be liberating or slightly (or extremely) daunting, depending on how sentimental you are.
If you have a tendency to become overwhelmed by saying goodbye to belongings, you may find it useful to go from room to room and write a list of items you must keep, what you would like to keep and what you want to be rid of.
Putting different coloured stickers on items to keep, donate, give away or discard can also work.
Or, you may prefer to physically group items together in these categories.
All of these approaches will give you an overview of the 'pack or discard' actions that you'll need to take, before you actually start getting rid of anything. It's the mental preparation that can help you ease into your decluttering.
Tip #3: Keep it, sell it or donate it (or recycle/bin it)
When it comes time to sort through your belongings, there are various sorting systems that can help you decide what to do with your belongings: listing, labelling, taking action straight away, getting help from friends and family … the list goes on.
But whichever approach you choose, you will need to decide the best way to reduce your clutter. For each item, this means deciding on whether to keep it, sell it, donate it or recycle/bin it. Before you begin, consider these things.
Keepers first
It's helpful to first identify items you know you will definitely need or want to keep –usually things with sentimental or monetary value, or items you use every day that you know you will need in your new home. Storing these items separately can help make the rest of the sorting process easier.
Sell or donate?
Whether you choose to donate or sell your unwanted goods often comes down to personal preferences and individual circumstances.
If you have time to organise a garage sale or sell goods online, a little extra money will always come in handy.
Donating to charities or second-hand shops can be generous way to help those in need. Remember to make sure your items are in good, clean condition before you donate them. There may also be restrictions on what types of donations can be accepted, so call ahead and check with the organisation first.
Some of your friends and family may also be interested in items you are giving away, which can be a convenient alternative to donating or selling.
Bin or recycle?
Wherever possible, make recycling your first preference ahead of throwing things in the bin. It's a better choice for the environment, and potentially allows your goods to have a new life when they're turned into other products.
When items you need to get rid of are too damaged or broken, or provide no use value and need to be thrown away, check options for recycling first.
Your local council can tell you about general recycling and hard-rubbish removal, as well as services for recycling non-standard items like mattresses, computers, batteries and old mobile phones.
Tip #4: Get things going with large items first
Deciding which large pieces of furniture to take to your new home is a good way to launch into decluttering. By removing larger items first, you will have more space in your current home, which will give you more space to sort through other household items.
Size matters
Ensure you're familiar with the room measurements your new home to determine which pieces of furniture, wall hangings and rugs will fit and which will not.
Some homebuyers create a scale drawing of their new home's floorplan on graph paper and then measure and draw furniture to scale too. Cutting out the furniture shapes and placing them on your floor plan will help you discover how much of your furniture will fit in each room. This can also be used for planning room layouts when you move, so store your cut-outs and floor plan in an envelope for future use.
Lifestyle matters
Consider how your lifestyle might change in the future too. For example, you may no longer need furniture for a home office, and choose to keep only a small table to use as an occasional desk instead.
Tip #5: Embrace the digital age
When you are in the early stages of decluttering, set aside time to sort through paperwork, documents and photo albums that you may have around your current home.
Secure what's important
Before you discard any papers, make sure important documents like birth certificates, insurance papers and tax documentation that you need to keep for future reference are organised in a folder and kept together somewhere safe. If possible, scan or photograph these so you can keep backup digital copies on your computer or a portable storage device and store this in a safe place.
Cut out future paper clutter
Transferring to digital statements from your bank or insurance company is a great way to significantly reduce paper clutter in your new home too.
Digitise your memories
Similarly, consider digitising your photo albums to save storage space, safely preserve your valuable memories and ensure you can always easily access these items.
Tip #6: Seek out new storage solutions for your new lifestyle
Moving to a new home means you will have different storage options available, and if you're downsizing, you may find you have a lot less storage space. While you are decluttering, it's a good time to think about clever storage solutions that will make the most of the space in your new home.
Make use of multi-function storage
Choose furniture that has inbuilt storage, like a coffee table with drawers, or a bed with drawers built into its base.
Embrace stylish, moveable storage
Purpose‑built boxes and stackable containers can help you organise and protect your belongings, transport your items during your move, and utilise the vacant spaces in your new home for storage – like the space under your bed and below the stairs, or on top of cupboards.
---
At Arden Vale, there is an extensive range of inbuilt storage solutions to choose from. Whether you need a butlers pantry, more linen space, walk-in robes, garage storage or an under-stair storage nook, we can take you through the range of standard inclusions as well as custom options for your next home.