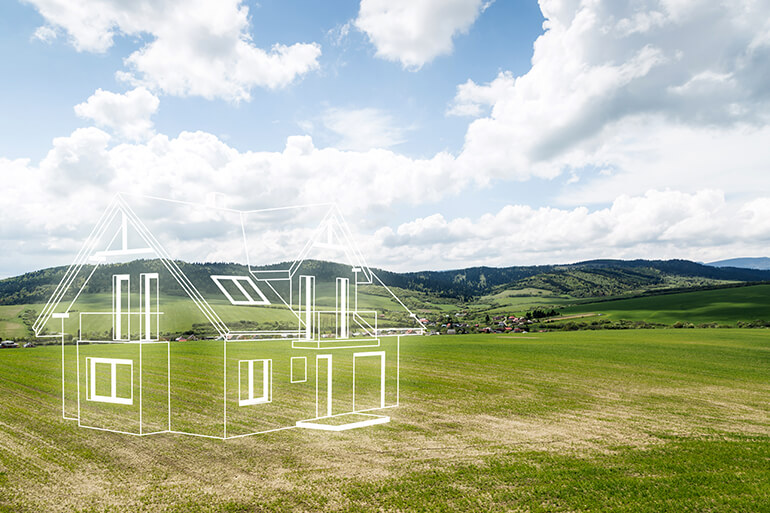 Aug 2020
Buying land? Here's what to consider.
---
There's a lot more to buying land than size and location. Finding the best quality land in an area that will allow you the flexibility to have the home you want can save you money, and help you avoid unnecessary setbacks when you start building.
---
Soil type
Soil type can affect how your foundations are laid and how your home is constructed, which can then have a flow-on effect for the cost of building your home.
To understand the chemical and physical attributes of your soil, it's important to organise a professional soil test early on, after your land is titled.
Some soil contains 'reactive soil' which refers to changing moisture content. This means some foundations need to be thicker and deeper, which helps stabilise and protect your house from buckling. This can affect the cost of laying the foundations, depending on how deep they need to go.
Similarly, soil testing will help us determine which construction techniques we should use.
While we build on all sites, regardless of soil type, it's best to speak with us if you have any concerns. Here at Arden Vale Homes, we have built houses throughout Toowoomba and well beyond. The vast areas we cover have the largest range of soils in Queensland, and we have a great understanding of which areas have great soil (and which are potentially problematic).
Steepness
Flat is always best when it comes to land.
A block of land on the side of a cliff may have an amazing view, but it will be costly to build on.
When buying your first block of land, ideally try to find something with a slope under one metre. This will ensure pre-existing designs can be built – otherwise you may need to speak with us about a custom design solution.
If you want to know the slope of a block, speak to your land sales representative and ask for engineering with finished levels. We can then use the documentation to calculate the slope for you and discuss home solutions to suit.
Allotment size
The size and shape of your lot will ultimately determine the type of house you can build, so it's good to have at least a vague idea of the size of home you'd like before purchasing your land.
When choosing the size of your block, there are a few things to consider:
Do you want a big garden or backyard, or are you looking for something with a smaller footprint and less maintenance?
Are you near parks? (This could impact how big your backyard needs to be.)
Do you want a double garage? Typically, you will need a lot with a minimum width frontage of 12.5 metres to do this.
When you find a house design you like, ensure you check
the width, depth and slope of the block against the dimensions of the house
the dimensions of the block for setback requirements, easements or other conditions that will limit where on the block of land your house can be positioned.
Covenants
Developer covenants (also known as estate guidelines) are sets of rules that each home in a new estate must adhere to. These covenants have to be met, and they can have a cost impact on your build if what you were initially proposing does not comply.
Land developers put these in place to ensure your asset is protected and the appearance of your home and others fits in with the overall aesthetic of the estate.
Guidelines vary, depending on the estate and land developer. They range from particular colours that can and cannot be used (for example, no pink houses) to whether recycled water needs to be used. They could refer to something simple, like every house in the street needing a wooden-look garage door or something more complex, for example, limitations on the type of façade you can choose.
Land checks (council regulations, bushfire threats and so on)
At Arden Vale we perform checks, or assessments, as part of our standard process, but you may like to have these performed ahead of time
Toowoomba Regional Council has a great website where you can see land, service and planning advice, and other items to assist your land background checks if you want to have a look yourself.
When considering bushfire threat checks, government legislation ensures every block of land is classified for a bushfire attack level (BAL). BAL is a means of measuring the severity of a building's potential exposure in the event of a bushfire and includes six levels of severity, all with varying associated build costs.
Your land agent will be able to confirm the applicable BAL rating of a particular lot and your builder can advise any associated costs – these can relate to windows, flywire screens, and other parts of your home.
BAL ratings and land identified as Bushfire Prone Areas are subject to change, but only at the discretion of the government or the Country Fire Authority, not the developer.
Titled or untitled land
Simply speaking, titled land means the block is able to be built on as soon as the transfer of ownership is approved, while untitled land a block purchased 'off the plan'.
Generally, you will pay the developer a deposit upon signing the contract (5–10%); however, you won't fully own the land until the Certificate of Title is issued in your name.
Land in new estates is often untitled, as blocks go on sale prior to construction commencing. If your land is untitled, you should be given an estimated title date, though keep in mind this may be subject to change.
Finance deposit
When purchasing land, you will generally be required to pay 5–10% of the purchase price for a deposit (depending on the land developer).
The balance of the purchase price is not payable until the new land title is registered, often in 6–12 months' time.
Be sure to ask your land agent when title registration is due. Your bank or mortgage broker thoroughly understands this process and will help guide you through this. They can even organise pre-approval, which can save you time in the long run.
---
With years of local experience and knowledge, we know the lay of the land across Toowoomba and its surrounding regions, and can help you find an allotment for your dream home. Find out more about our home and land packages, and discover where we have land for sale.