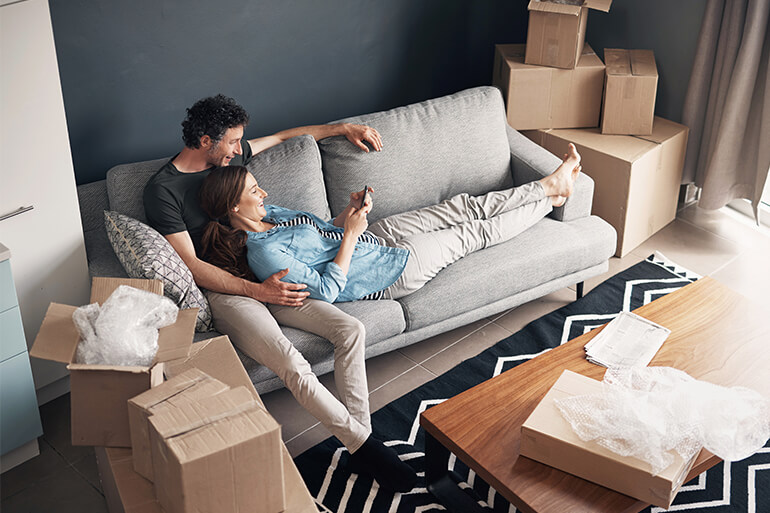 Aug 2020
Tips to prepare for downsizing
---
Once you have made the decision to downsize, taking a few simple actions before you buy, sell or build can ensure you enjoy a smooth transition into your new home.
---
Choose a location that's right for now and later on
Choosing a location is one of the most significant decisions you will need to make. Remaining in the same suburb might be your preference, especially if you have strong ties to your community or have friends and family close by. Or, you may prefer to embrace a complete change of scenery and pace of life elsewhere.
When deciding on your ideal location, consider what your needs and wants are now and what you may require later on as your life changes. Choose a location that suits your lifestyle and interests. For instance, a location with public transport, shops, restaurants, and parks or walking tracks close by will make life easier – especially if you enjoy an active lifestyle or have grandkids.
Check your finances
After the initial expense of moving, downsizing can be a great way to lower costs generated from general household expenses over time. Having fewer rooms can lower your reliance on heating and cooling, and a newer home with a smaller garden means you will likely pay less to maintain your property too. But there are other financial aspects to consider well before these savings begin, and there may be ways to avoid unnecessary costs and start saving earlier.
Seek professional advice
Whether you have retired or are planning to in the coming years, or you're downsizing because your life situation has changed, it's always good to seek out professional legal, tax and financial advice to help you plan for your future.
While downsizing is an exciting time, it's also marks a significant time of change in your life, so it's useful to have plans in place that can support your long-term success.
Have your current home valued
Now is also the time to have your current home valued so you can better understand your financial options. While friends may have compelling stories about the money that can be made on selling a home and downsizing, every situation is unique. So, it's important to carry out your own research and seek professional advice.
Many things can influence the value of your property, including the location, condition and age of your home, and even the time of year you plan to sell. Sites like realestate.com.au or domain.com.au can be helpful resources to find out about recent sales of similar properties in your area. It's also a good idea to approach your local real estate agency, as most offer free, no obligation consultations to give you an indication of your property's value.
Declutter your current home
Moving to a new house is always a great opportunity to declutter and simplify, but in downsizing, getting rid of things is an essential step. Downsizing from your larger family home will likely mean reducing what have accumulated over the years too – furniture, kitchen gadgets, old documents and personal items included.
We recommend that you visit our display home to get a feel for what furniture will fit in your new home. We can help you ensure you have a good understanding of the size of your new home so you can make accurate decisions about what furniture will fit and how much space you have for other items.
When you begin decluttering your current home, remember to allocate plenty of time to sort through everything – it generally takes longer than expected!
Start by setting aside important, sentimental and valuable items. It may suit you to work through one room at a time, or you may choose to sort one item category at a time, like books, and then move on to other categories.

From what remains, consider which items can be donated, given to family or friends, or sold at a garage sale or online. And make sure these items are out of your home as soon as possible so that you can enjoy your clutter-free space before you move.
Plan to sell before you buy
It's easy to get swept up in finding your new home, but it's important to remember that buying without having already sold your current home can cause financial strain.
It can sometimes take longer than expected to sell your home, and if you feel pressured to sell quickly, you may end up selling your home for less than you had hoped. This can leave you in a difficult financial situation.
While it may be possible to secure additional financial support or a bridging loan (a short-term loan to cover expenses) selling before you sign a contract on your new home can save you time and money and avoid unnecessary worries.
Find your dream home with expert guidance
Make the search for your new dream home easy and enjoyable. If you haven't done so already, read our essential guide to downsizing, and then speak to us about how we can tailor a downsizing solution to meet your needs.
We have designed and constructed thousands of homes and will use our expertise to help you find your perfect home to suit your lifestyle, tastes and financial situation.