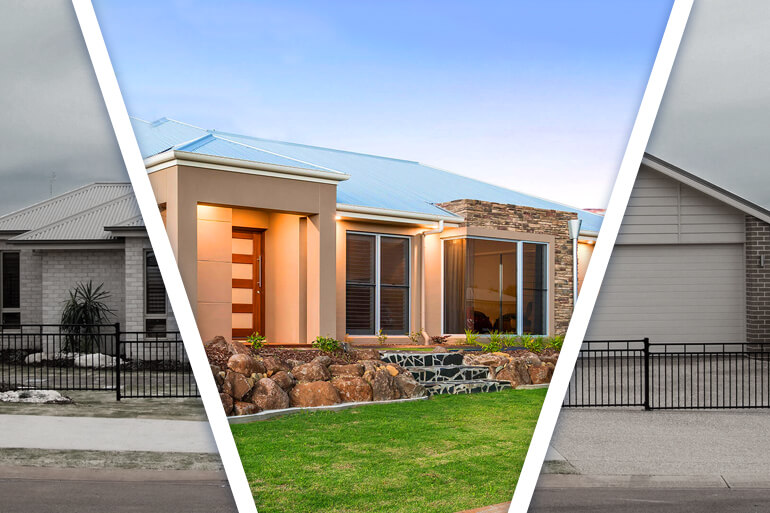 Aug 2020
What to know before you knock down to rebuild
---
Addressing a few important things and doing the groundwork before you knock down your existing home can help your project stay on track, so you can move into your newly built home sooner.
---
If you've decided it's time to make a fresh start on your existing block, and are looking into knocking down your home to build a new one, there are some important things to factor into the process before beginning to clear your land. Knowing how to address these can help you get the best result for your dream home.
We can provide guidance on these requirements when we discuss plans for your new home.


Planning regulations
The very first thing you should do is contact your local council to establish if there are any heritage or vegetation overlays affecting your land. These are council regulations put in place to conserve and enhance the council area and ensure any developments do not adversely affect the area's significant characteristics.
A quick meeting with council will help you identify any obstacles that might arise when you build your new home.
Toowoomba and its surrounds have diverse planning requirements that we have become familiar with over the years, and we can assist you to ensure any new home will comply with regulations.


Land size, setbacks and easements
It's a given that you'll need to consider the size of your block when choosing a new home plan. It will affect how your home can be positioned in terms of its distance from the road and other features (setback), and can also be impacted by parts of your land that may be used by others (or others' land that may be used by you) like shared driveways or council-controlled power lines and drainage (easements).
Setbacks
For setbacks in established areas, councils generally require the distance between the road (or another protected structure) and the frontage of your home to be the average of both of your neighbours' setbacks. Should you wish to be further forward than this, you will need to obtain a Report and Consent approval through your council. This process can begin after the completion of your tender appointment with us, and the expected time frame of assessment is approximately six weeks.
All new dwellings must also comply with building regulations that stipulate setbacks of minimum 6 metres at the front, 1.5 metres at the side and 1.5 metres at the rear when building a single-storey home, or more for a two-storey home.
Easements
If your block has any easements, these can impact which designs will work. This information can be obtained by contacting the owners of the easement (for instance, your local council and water authorities) or from your Plan of Subdivision.
Also ensure you take your existing driveway (also called the crossover) position into account when you are choosing a house plan. If you want to change the location of your driveway, you will then need to obtain approval directly from your council.

Drainage
All sites require a legal point of discharge (also referred to as an LPOD) and a sewer tie within the property boundary for drainage prior to site start.
In some cases in established areas, the existing LPOD may be unsatisfactory for a new dwelling. If the LPOD is not within the property boundary, it is considered the property owner's responsibility to ensure it is brought into the boundary, which may have additional costs.
Your council will determine the satisfactory LPOD, and Arden Vale Homes will order this information prior to your tender appointment to present to you. Any additional construction required will be determined at this point.


Street access
Consideration also need to be given to how accessible your block is for both demolition and construction.
The size of roads, schools in the area, overhead power lines and the requirement for traffic management (if you are on a busy road or in a difficult to access area) will need to be factored in.
Restricted-access blocks may incur additional charges due traffic management as well as the need to manually unload materials.


Power supply
We construct all new dwellings with underground or overhead power.
Since your existing dwelling will likely have overhead power that will be cut and abolished prior to your demolition, you will need to arrange the installation of any new power through your provider. The process can be started prior to the demolition of your home and can be lengthy.
You will need to contact your provider for an application form, which we assist in filling out if needed. Once returned, you will receive a quote that will be valid for 30 days. When this has been paid (within the 30 day period) your electricity pit will be installed approximately eight days later. From here, your electricity pit can take up to five days to be energised (made live) – a live electricity power pit is needed prior to construction commencing.


Neighbours
Neighbours can play a part in assisting with the approval of your design.
If your proposed build falls outside standard building regulations, you should gain consent from your neighbours upfront, as any objections they have can affect the design of your home (for example, your ceiling heights and windows), and this can also delay your build time if alterations or further approvals are needed.
Neighbours also need to be engaged regarding shared fencing. Depending on your build, fencing may need to be removed prior to site start.


Pool
If you are intending to put in a new pool or keep an old one, be sure to discuss this with us upfront.
A pool can have a bearing on which house plan you proceed with, and may impact the cost of your slab design (foundations for your new home) and the construction process.
To maintain a safe workplace, we require a minimum distance of 1.8 metres between your home and pool, and you will be required to install a hard pool cover to Australian Standards prior to construction commencing.
---
We can step you through the process from an initial informal chat all the way through demolition and rebuilding, and to making sure you're settled comfortably into your new home. Contact us to talk through the many options for your new home, including custom options to suit your land.